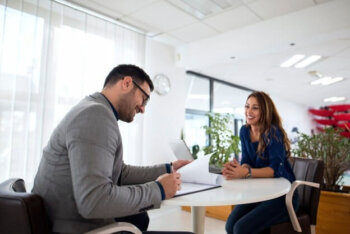 Expert interviews are qualitative methods of data collection with the primary objective of gathering information about a particular issue or field of action. This post will deliver more insights on expert interviews and everything college/university students need to know about the research method.
Definition: Expert Interview
An interview is basically a conversation involving two or more people. Mostly between the interviewer and the interviewee and the interviewer asks questions while the interviewee replies to them.
Expert interviews refer to the expert being the interviewee and having expertise in a certain area of study. They can be done formally or informally and be done over the phone or by email.
Conducting expert interviews helps the researcher get specific information about a specific study area. As a researcher, you need to identify who is an expert in your area of study. You can do this by looking out for their credibility and credentials. Experts need to have vast knowledge, ability and experience in their area of study.
What are the different steps?

Planning
Before beginning your interview, you need to do a few preparations:
Define your purpose: Come up with a clear purpose of what the interview is all about.
Write a list of questions: Compile a list of questions that will help you get the necessary information concerning your purpose. Select three of four questions from the list and discuss them with the interviewee in advance.
Dress appropriately: The best suggestion for a dress code is business attire as it shows a high level of professionalism.
Organise your materials: Have your notepad and tape recorder ready for the interview. Ensure you are equipped with the necessities such as pens with enough ink, charged batteries and enough paper.
Double check: Go over everything that you have planned for ahead of the interview.

Beginning the interview
Once you have a laid down plan for your interview and its time for the interview, begin the interview with a polite greeting such as "How are you", thank the interviewee for creating time to meet you, make sure the interviewee is comfortable and make the interview interesting.

Ending the interview
While conducting an expert interview, how you begin and end the interview matters greatly. When ending an interview, there are a few things that you can do:
Sincerely thank the interviewee for creating time to come for the interview.
Ask the expert if you can include their responses in your research in the future.
Ask them if they will be willing to allow you to share some of their work on your case study.

Consolidating your findings
Expert interviews can be carried out individually or by a group. While conducting individual expert interviews, the main focus is usually to get important information concerning the case study. You might want to interview more than two people to get the full effectiveness of the interviews.
This is the best way to take if you are less familiar with the interview topic. The right way to take is by interviewing more people that can help you understand the topic more.
Example questions for an expert interview
Below are some of the questions you can ask a marketing expert in the salon sector:
Who are the most regular customers in a salon? (gender/age)
What time do most people go to the salon?
How can I keep track of my customers?
Tips for conducting an expert interview
The guidelines below can help you conduct an expert interview.
Be early: Always keep time. You do not want to keep the interviewee waiting.
Be polite: Make a brief introduction of yourself to the interviewee. State your name and the reason for being there.
Be thankful: After the interview, thank the interviewee for agreeing to meet you.
In a Nutshell
Expert interviews are mostly conducted when trying to gather information about a case study. It's important to prepare well and do enough research on the expert and know what to ask and what not to ask. College students can therefore utilise expert interviews as a way of carrying out their research.
More articles on academic writing