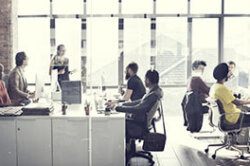 Balanced scorecards were mainly created to help businesses monitor their activities using a different perspective to achieve progress. This article will discuss the importance of companies using a balanced scorecard to achieve effective management.
Balanced Scorecard: Definition
A balanced scorecard is a widely accepted organizational performance model that uses strategy to measure results in four perspectives. That is; customers, internal processes, finance and learning and growth. These perspectives allow a company to achieve its long-term goals when looking to grow bigger and better.
The 4 Balanced Scorecard Perspectives
Now that you know what a balanced scorecard is and how it's used, we'll discuss the 4 perspectives in detail.

Learning and Growth Perspective
This perspective deals with the company's competencies in training students on the technology that is changing rapidly. It also allows employees to be mentored in such a way that they are able to grow on their own. Lastly, it focuses on obtaining and training employees with the latest tools and systems that will enable them to foster innovation.

Internal Business Processes Perspective
It will be important to scrutinize a company's internal processes to look for loopholes that need a lot of improvement. Improvement can be done by removing any inefficiencies or bottlenecks. Will it be of help to the company's strategic goal if some processes were to move faster?

Customer Perspective
You will want to find out your company's activities from the stakeholders' perspective. How do other stakeholders view the activities of the company and what are their reviews? Negative perceptions of the company would result in declining profits and less client traffic in the future.

Financial Perspective
The financial perspective is the core of all the other perspectives. You will always want to look at the returns on the investments you make in the company, as well as growth and profit.
How to Create a Balanced Scorecard
You can create the best scorecards by using templates. Include a space for all the four perspectives and later add what will suit the company. Follow these steps to create your balanced scorecard:
Determine the vision: The company's main vision will come at the center of a balanced scorecard. Whichever way you look at the company, the vision should always be the main part.
Add perspectives: While coming up with the commonly used balanced scorecard, put the four perspectives in a circle around the main vision.
Add objectives and measures: Define the specific objectives, targets, measures and initiatives for each perspective.
Connect each piece: Make sure you connect each perspective to the others by using arrows to show that they are all interlinked for the company's vision to be achieved.
Share and communicate: With the balanced scorecard you have come up with, use it to explain how different initiatives and short-term inputs contribute to the long-term objectives of the company.
Tip: Don't forget to clearly viualise your balanced scorecard or strategic map! It shows the cause and effect relationships between your objectives and how they're connected to the overall mission. It is a great tool because it helps to communicate your company's strategy and how each employee can contribute to the continuous improvement process.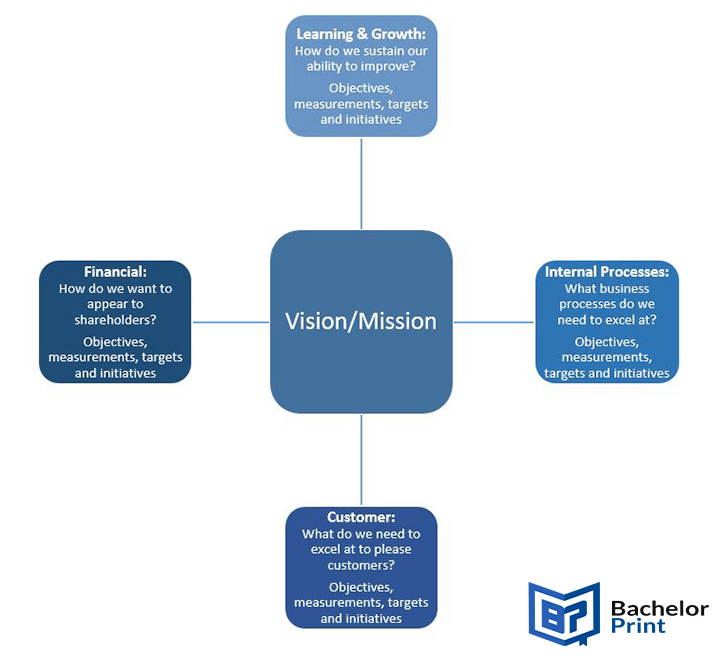 Changes to the Balanced Scorecard
Since its first implementation, a balanced scorecard has undergone several changes to ensure that the objectives are achieved. The balanced scorecard is like a transformation journey and is not a one off project. You can even come up with a change management plan that will run parallel to the balanced scorecard.
Remember, nowadays it's important that the balanced scorecard fosters engagement and leadership and it may be useful to develop a results-based organizational culture. Remember to hold review meetings to check on the progress of the implemented strategies and emphasize on the gradual improvement of the company on a long-term basis.
It's important that you link budget formation with performance results and maintain a results-orientated culture. Plus, be sure that you're not forgetting to consider important stakeholders like suppliers.
Lastly, consider how your organisation reacts to change. Perhaps the culture or deeply embedded learnt behaviours need to be analyzed and/or changed. Ensure you train your staff to properly carry out the new 'approach'. A safer option would be to consider hiring a consultant.
In a Nutshell
The balanced scorecard is a management system that helps in the improvement of a company by focusing on long-term strategies.
Financial matters are always important when coming up with strategies that can better the performance of the company.
A good scorecard aims at coming up with great strategic measures that will lead to a balanced performance.
Good scorecards aim at coming up with high-level strategies and low-level measures.
The scorecard aims at using the four perspectives to measure the health of the company. All these perspectives are interlinked but each one of them focuses on different aspects of the company.
When coming up with strategies, they should start with action words such as improving, increasing, or optimizing.
All the strategies you come up with, need to have at least one or two measures. These measures need to have goals or else you will end up measuring the wrong things.
Discover more useful articles: