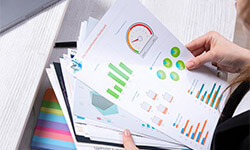 When writing a dissertation, you are, in some cases, required to include a separate advisory report. An advisory report is typically written for a company or establishment that aims to implement the author's advice in the future. This article encompasses the relevance of an advisory report, outlines how to structure it properly, and provides tips for writing and formatting one effectively.
Definition: Advisory report
An advisory report is a document from an expert who provides its reader with recommendations and advice on a particular topic. It is also called an expert report, and it is prepared for companies or organizations that aim to act on an expert's advice. It is typically centered on well-substantiated opinions and facts.
When is an advisory report relevant?
This report is relevant when you want to provide concrete and well-researched opinions and recommendations to a client. It may also serve as an evaluation report for a client when it is started with an advisory research question. An advisory report is also relevant when you wish to set out the best practices to be implemented and necessary controls for improving a company or organization in a specific subject area.
Structuring an advisory report
There is no standard structure for these reports since different companies have varying requirements. The key is finding out what your client requires. However, all advisory reports do have a standard basic structure.
Section of the report
Description
Length
Title page
This page must be professional and appealing, like a dissertation's title page. It must contain the following:


Report title/subtitle
Name of the author
Client(s)
Date, place, and year



One A4 page
Executive summary
This section is not necessary if the report is short. It aims to provide the reader with a brief overview of your advice and recommendations. It must be as short as possible.
One or half an A4 page
Table of contents
You can apply the rules for making a dissertation table of contents.
One A4 page
Introduction
This section provides further information on the issue at hand, like the background and context. It also explores the main research question and study parameters.
Less than one A4 page
Research design
This section summarizes your research design.
One or half an A4 page
Solutions or alternative measures
This is the most important and hardest section to write. It gives an outline of the possible steps toward implementing the recommendations and weighs them against the possible constraints. It also contains brief substantiations of each solution. This section should answer the following questions:


How would the solution resolve the problem and within what period?
What are the pros and cons of the measure?
Is there evidence that the measure would be effective?
What would it take to implement the measure (money, time, resources)?



A maximum of three A4 pages
Conclusion
This section identifies the ultimate recommendation and justifies it. It covers the following:


The proposed solution(s)
Implementation steps in order



A maximum of one A4 page
Sources
All sources used to prepare the report should be listed.
One A4 page
Tips for writing an advisory report
Besides the basic structure of an advisory report, you may also benefit from a few writing tips. Below are effective tips for writing an advisory report.

Deciding on an advisory report
The first step is deciding whether you will provide a separate advisory report. You should make this decision with your client at the beginning of your research. If you decide to prepare the report, then you must also seek clarifications on the purpose and intended readers of the advisory report. This information will guide the preparation process.

Design and content
Next, find out your client's expectations about the design and content of the advisory report. You can start with the structure explained above as the starting point. Also, you can request to review similar reports prepared for your client. This will give you an idea of what they expect. Ensure to get clarifications on the submission date, length, and other elements the client would want you to consider.

Checklist of an advisory report
Next, prepare a checklist for your expert report. You can adjust the checklist based on your client's requirements. Your checklist may include:
How the solutions will contribute towards resolving the issue at hand
How long will the measure take to provide solutions
The pros and cons of the measures
The best-presented measure (in order)
Requirements for implementation

Keep in check with the purpose
Your expert report should be brief and to the point. It should be easy to understand and be in check with its purpose.

Feedback
Always ask for feedback from your client and other stakeholders on a draft before finalizing your expert report.