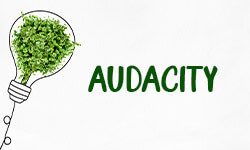 Numerous people look up English words, phrases, and terms to understand their definitions. Some words are frequently used, while others may be used solely for their aesthetic appeal without a complete understanding of their origins. This article provides a thorough comprehension of "audacity," including its correct spelling and historical background.
Definition of "audacity"
The word "audacity" is defined as the quality of being bold, daring, or fearless, often with a disregard for conventional rules or expectations. It can also refer to an act of impudence, insolence, or brazenness. The origin of the word "audacity" can be traced back to the Latin word "audacita," meaning "boldness" or "daring".
Use of "audacity" in a sentence
When used in the English language, "audacity" functions as a noun. The following examples illustrate how to use the word in a sentence.
How to spell "audacity" correctly
"Audacity" is often misspelled as "audasidy", "audicity", or "audastity".
The only correct way of spelling the word is "audacity" and consists of two parts in Latin:
"audax" – meaning "bold" or "daring"
"-ia" – a common noun-forming suffix
Correct spelling
audacity
Wrong spelling
audasidy
audicity
audastity
Synonyms for "audacity"
By utilizing synonyms for "audacity," you can improve the quality of your writing by adding a greater variety of words with similar meanings. This can help eliminate redundancy and enrich your vocabulary, resulting in better expression. Below are four examples of synonyms for "audacity" along with sample sentences for each:
| | |
| --- | --- |
| Synonyms | Examples |
| Boldness | She displayed great audacity by speaking up against the powerful corporation. |
| | She displayed great boldness by speaking up against the powerful corporation. |
| Brazenness | The politician's audacity in making false claims shocked the public. |
| | The politician's brazenness in making false claims shocked the public. |
| Fearlessness | His audacity led him to take risks that others wouldn't dare to. |
| | His fearlessness led him to take risks that others wouldn't dare to. |
| Impudence | The child's audacity in talking back to his teacher resulted in detention. |
| | The child's impudence in talking back to his teacher resulted in detention. |