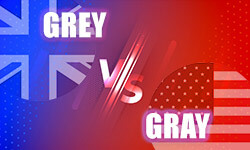 An important factor of academic writing is to be consistent when writing an academic essay, dissertation, or research paper. It is especially necessary to keep a clear, comprehensible, and cohesive flow regarding grammar, spelling, punctuation, and vocabulary. Most students cannot differentiate between British English vs. American English, for example when using the words "gray" or "grey".  Learn how to distinguish this term in the following article with the help of examples.
"Gray" or "grey"
"Grey" and "gray" are two words with the same meaning. They both explain a color between black and white. The only difference they have are the letters "a" and "e". "Gray" with an "a" is more commonly used in American English and "grey" with an "e" is more commonly used in British English.
There is no difference in the meaning, and it's not incorrect to use on form over the other.

British English
grey

American English
gray
grey (not recommended)
As you can see, the only difference they have is one letter in the spelling.
Examples of using "gray" and "grey"
The following examples will illustrate the difference in spelling of the word "gray/grey" in British English as well as in American English.


FAQs
In American English, "gray" is more commonly used, although "grey" is not incorrect.
No, there is no difference in meaning between "grey" and "gray." Both refer to the same color, a shade between black and white. The difference is primarily regional.
"Grey" is more commonly used in most English-speaking countries outside the United States, such as the UK, Canada, and Australia. However, because of the influence of American English, you will also see "gray" used in these places.