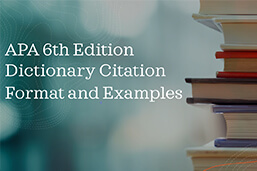 One of the first rules of academic writing is that you must cite your sources correctly in order to assign proper credit to the original author and avoid plagiarism. The 6th edition APA style guide provides specific rules for all types of sources. One of the most commonly used sources in academic research papers is dictionary entries. This article will explain how you can format your citation according to the APA 6th edition dictionary citation manual.
Definition: APA 6th edition dictionary citation
The APA 6th edition dictionary citation manual provides a simple format for citing this type of source. As mentioned above, it should include the word you want to cite, the publication year, the dictionary name, and the publisher/URL. You can replace the publisher date with "n.d" if there is no publication date.
The format above also applies to encyclopedia entries. However, encyclopedia entries usually list authors.
6th edition dictionary citation: Online
Online dictionaries, like encyclopedias, are usually prone to changes and continuous updates. Therefore, you should not include a specific publication date when citing them. Instead, indicate "n.d." in the place of the publication year.
Some specialist dictionaries and encyclopedias usually include the names of their authors. When citing such sources, you can add the author's name in the normal position. Furthermore, when the online reference features a specific edition, you should include it in the citation. Finally, do not forget to add the publication date.
APA 6th edition dictionary citation: In print
When citing print dictionaries, you must always include the specific edition with the publication date.
A few print dictionaries usually list authors, especially specialist dictionaries. In such cases, the author's name should come at the beginning of the citation.
APA 6th edition dictionary citation: In-text
If the source does not have an author and date, the in-text citation should feature the entry title in quotation marks and "n.d." in place of the missing date. On the other hand, if the author and the date are available, you can apply the standard APA in-text citation format (author and date).