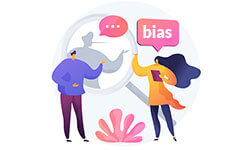 Demand characteristics, often intertwined with research bias, are prevalent in psychology, especially in lab-based studies where participants are aware of the study's objectives. Such characteristics can elucidate how involvement in a study influences behavior and attitudes. When participants discern the study's intent, they may, due to these demand characteristics and associated research bias, distort or compromise the validity of communication and social science experiments.
Definition: Demand characteristics
Demand characteristics are factors unrelated to the core analysis and can have an impact on the findings. Participants may be prompted to alter their replies, either knowingly or unconsciously, by these signs.
Where do demand characteristics come from?
There are various potential origins for demand characteristics in experimental psychology. These should be seen as hints about the research hypothesis. Among them are:
Recruiting materials study title.
Rumours subjected to the research.
Communication between the researcher and subject.
Context of Research.
Useful gadgets and equipment.
As participants become aware of certain aspects of the research, they are under concealed "demands" to behave in a certain manner. Depending on the situation, they may be hard to see or glaringly evident. They can be hidden or obvious.
Demand characteristics impacting participants
People taking part in your research may be able to determine its purpose from its presentation or location, which may impact their actions. This shift in conduct occurs because it's difficult to pretend to be ignorant once you have an idea of the experiment's goal. There are four possible roles that players might take in a given situation:
| | | | |
| --- | --- | --- | --- |
| Good Subject | Negative Subject | Apprehensive Subject | Faithful Subject |
| The subject is eager to assist, so they offer to back up the scientist's concerns. | The subject actively works to disprove the idea being tested. | The participant crafts the most popular responses possible to avoid negative feedback. | The participant does the task as though they were unaware of the study's assumptions. |
The good subject role
Good subjects actively apply what they have learned to aid in your study.
Some people find meaning in their actions by contributing in this manner.
The negative subject role
Subjects assigned the negative role may attempt to undermine the research by behaving erratically or providing false information. Some people may volunteer for this job if they feel like they are being told what to do all the time.
Demand Characteristics: Internal & External Validity
When demand characteristics provide an alternate rationale for a study's findings, the study's findings might be disregarded. It's a danger to internal and external credibility. It is risky to experiment with demand characteristics because of the potential for manipulating the results.
Controlling Demand Characteristics
Some careful planning and use of research tools will allow you to manipulate demand characteristics. Using these techniques, you may lessen the likelihood that the features of demand characteristics. Using these techniques, you may lessen the likelihood that the features of demand will distort your results.
Deception
It is ethically permissible to utilise deception in research if it is justified and will not cause any damage to the participants. When subjects finish the research, it is important to have a discussion with them to explain the study's true objectives.
Between-Groups Designs
One of the two common designs in quantitative research is between-groups or within-groups. Within-group designs provide all possible treatments for subjects' independent variables, whereas between-group designs provide just one solution for independent variables.
Double-blind Design
Participants in an experiment are not told whether they are in the treatment or control group if blinding or masking is used. A double-blind design conceals the condition assignments from both the researchers and the subjects.
Implicit Measurements
Implicit or hidden measurements in psychology reflect cognitive skills, characteristics, and behaviours that individuals may not be able to describe. When participants are unaware of the task, implicit measurements may diminish demand characteristics. These methods can potentially conceal your study's purpose.
What Are Other Types of Research Bias?
Type of Research Bias:
| | | |
| --- | --- | --- |
| Cognitive Bias | Selection Bias | Others |
| Negativity bias, framing effect, halo effect, confirmation bias, primacy bias, optimism bias. | Sampling bias, attrition bias, nonresponse bias and undercoverage bias. | Recall bias, placebo effect, ceiling effect. |