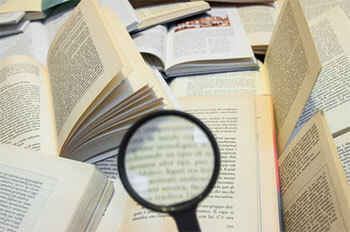 Definition: Thesis topics
Thesis topics are essentially the topics of theses. However, once you begin putting serious thought into what topic to write about, you will realise that a thesis often includes multiple overlapping topics: for example, a history thesis might discuss specific events alongside broader cultural elements.
In conclusion, a thesis topic is best thought of not as a single subject, but as a convenient summary that can encompass and bring together multiple distinct themes.
Picking thesis topics can be difficult, but there are approaches you can follow that will make the task easier. This article is written to help you make your decision as to which topic will suit you. Of course, the final choice will be entirely down to you; but this article will provide you with some tips and advice that should make the process of picking from potential thesis topics easier for you.
Finding a Thesis Topic
There are a few stages that you can try when choosing from the possible thesis topics available to you:

Brainstorming
An essential part of coming up with thesis topics is simply through making notes. Get a sheet of paper and jot down ideas; the more ideas you put on paper, the more thesis topics you will have to choose from.

Research
Perhaps you could set yourself a mini-project to help you choose; you could try a small-scale piece of research-based writing to get a better idea of what kind of thesis topics will suit your interests and your means.

Identification of necessary resources
Your thesis will end badly if you find out that you are lacking a vital piece of research material. Make sure that there is enough material relating to your topic available to you (including at the library and online) before you make a final decision in regards to thesis topics.
Good Thesis Topics
An important consideration to make when choosing between thesis topics is whether or not you are boxing yourself in. Thesis topics that are too narrow or too specific may leave you finding that you do not have enough to write about to fill an entire thesis; this will likely lead to you either stretching out a short piece of writing to the point of meaninglessness, or branching off-topic into something irrelevant.
At the same time, you will want to avoid thesis topics that are too broad to be covered meaningfully within a single thesis. The ideal thesis topics are  ones that strike the right balance: on the one hand narrow enough to be readily contained; on the other hand, one with enough factors and implications to withstand being broken down and discussed in detail in terms of component parts.
Summary
interesting for yourself
not too narrow or specific
not too broad to be covered meaningfully
Bachelor/Master Thesis
A conclusive thesis topic will be essential to any piece of academic writing. In academic writing, form and structure will flow from the essential topic. So if you lack a topic, or are in any way undecided as to what your topic should be, your piece will lack form and fail to gain recognition in academic circles.
While there are many examples of successful essays that lack precise, easily-summarised topics, these are distinct from academic circles, and so their approaches should not be emulated for your thesis topics.
Thesis Topics Examples
Here are some examples of possible thesis topics for a number of disciplines.
Discipline
Possible topics
Business
- Social attitudes towards women in business
Media and communication
- The impact of social media on political elections
Environment
- Developments in sustainable materials
History
- British attitudes towards France during the Napoleonic wars
Biology
- Cultural attitudes towards the science of cloning
- The effects of hormones on dairy cattle
- Possible explanations for the recent decrease of bee populations
In a Nutshell
When it comes to choosing thesis topics, here are the essential rules to follow:
• Choose a topic that interests you personally.
• Make sure that you have enough research material at your disposal.
• Ensure that your topic is broad enough to sustain a thesis, but not too broad as to be cumbersome.
• Make sure that you understand your topic well enough to structure your thesis in a coherent manner.
Find more helpful information here: